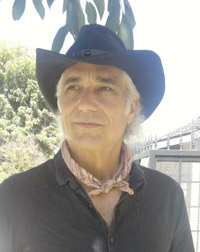 February 5, 2016
Shaolin Pictures just launched our first INDIEGOGO crowd funding campaign:
"Kung Fu Cowboy KILLS Tunnel Zombie 1." Check it out!
January 14, 2016
The original screenplay was titled: Kung Fu Cowboy: VEGAS ZOMBIES.
This became Kung Fu Cowboy: NAZI ZOMBIES, when we decided not to shoot the movie in Las Vegas.
Now, the movie is titled, Kung Fu Cowboy: ZOMBIE KILLER.
August 10, 2015
Richard Del Connor began writing the ZOMBIE KILLER screenplay August 6, 2015. It was completed on August 10. Richard wasn't trying to win a prize... he just had the story in his mind and let it pour out. He also wrote some poetry during this time and read a book, The Zen Teaching of Bodhidharma, during that week.
5 days to write a screenplay? Yep. 117 pages. (177 handwritten pages)
It was actually 2:30AM on August 10 making it a 4-day + 2.5 hours screenwriting project = 5 days.
In July of 2015, Richard Del Connor "Kung Fu Cowboy" began warning people he was thinking about writing a zombie movie. The more he thought about it and asked questions of his friends... the more ideas he got.
Richard had only seen three zombie movies his entire life, but he was searching for a concept and way to convince himself that zombies could exist. Finally, he invented a way to make zombies and figured out what happens to their souls. He also used his spiritual concepts discovered and illuminated in his book published in 2014, SUPERSOUL 13. This book provided the spiritual information that developed into his "zombie spiritual concepts" of the NAZI ZOMBIES movie.
Then, on August 6, he began writing the screenplay. 30 pages the first day. 57 pages the 2nd day, then a 10-hour writing session... then he finished it. 5 days to hand write 177 pages in a new purple notebook he purchased just for this script.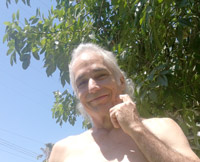 The temperatures in North Hollywood were above 100 degrees a couple days so Richard parked under a bridge and wrote the screenplay there, on Chandler Ave.
It took several more days to typeset the handwritten pages into Final Draft screenplay software. In its final Final Draft screenplay it came out to 117 pages, without rewriting anything or adding anything.
So the Kung Fu Cowboy: Zombie Killer movie was written in 5 days. Normally, that would probably be a rushed and sloppy... but this story had been bubbling in Richard's brain for a few weeks. When Richard finally decided to write the movie he saw about 90% of the screenplay in his mind. The story just poured out. If Richard could have written faster, it would have been done sooner.
"I was pretty stressed out for a couple weeks," moans Richard. "In my subconscious mind, I probably believed I was really fighting and killing these zombie monsters. That's another reason I was in a hurry to complete the screenplay, I wanted to end my zombie war."