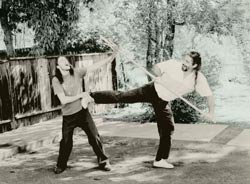 There isn't much to report yet. I've been working with a producer to create and publish this graphic novel of the entire screenplay. It will cost a couple thousand dollars to just to create the look and character studies from the artist.
We may do crowd funding to publish this graphic novel: KUNG FU COWBOY: ZOMBIE KILLER by our own, Chinatown Comics. We are working up a budget for this graphic novel. This should begin production in November 2015.
If any of you fans would like to be involved contact Richard Del Connor.