Composer: Richard Del Connor, The Hippy Coyote "KUNG FU COWBOY"
A couple of theme songs were written during the writing of the screenplay. These are hard and dark songs that sound like Led Zepellin and Black Sabbath.
At least two songs from the American Zen LEVEL 2 = CHRIST KILLER album will also be used in the movie.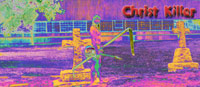 "I Want To Laugh #2" by American Zen

Visit the MOVIE SAMPLES page for some other music and graphic samples